Swim lessons the way kids learn.
Swim Lessons to save your child's life.
Kinder Swim offers proven survival skills training to enable your child to swim, float and swim in the event that he/she may fall in the water. Through our hands on, one on one approach, your child is guided through a program that is personalized to his/her age appropriate level. Few programs are willing to teach children under the age of three. Kinder Swim, Inc. offers swim instruction to children 6 months and up.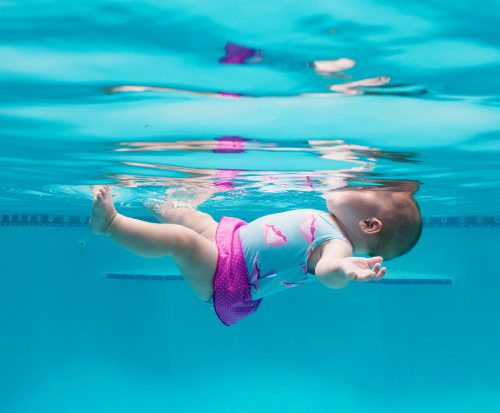 Our training and hands on experience have allowed Kinder Swim to structure a swim program designed to ensure that your child successfully acquires life saving skills. The results will amaze you!
Utilizing private lessons, your child will learn to hold his/her breath, put his/her face in the water, swim for 3-4 seconds, rotate to a floating position to rest and breathe, then rotate again to a swimming position. Upon the completion of the course your child will be able to successfully achieve a float from any position and swim to and from parents, pool steps, or wall.
Lessons are Monday through Thursday, 4 days a week, anywhere from 3-6 weeks, 10 minute private lessons.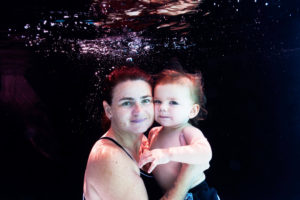 Katja Borosch is the mom of two beautiful young adult daughters and enjoys spending her free time with her rescue dog, Lukas, as well as going to live concerts.  Katja has been certified since 2004 through one of the largest swim-float-swim schools in Florida, PediaSwim.  Since 2004 she has continued to develop and sharpen her skillset by joining the nationwide association, Infant Aquatics, and by attending national conferences annually.  Katja's passion for toddler/preschool age swim safety occurred after her youngest daughter fell in the pool, right in front of her.  Shortly thereafter, both of her daughters successfully completed a survival swim program similar to what Katja now teaches, which gave them important lifelong skills. 
In May, 2004 Katja opened Kinder Swim, which she operates from her private home in Brandon, Florida.  Her pool is an in-ground, heated, salt-water pool with a screen enclosure.  She also has multiple chairs set up so parents/guardians can comfortably watch their child from the pool deck, along with a small changing tent if a parent prefers privacy when changing their child into dry clothes.
What Our Customers Have to Say
"Thank you, Ms. Katja for the amazing gift you have given Theo- the ability to swim, float, and ultimately safely navigate the water. We are forever grateful to you. Your patience and understanding of children is unprecedented. Danke!"
BRITTANY M.
MOTHER
Frequently Asked Questions
Most frequent questions and answers
Why is this course so Successful?
Our program is based on patience and persistence. We build a child's skills gradually through our age appropriate lessons so that your child becomes comfortable in the water.
What Can Infants and Children Learn?
Infants six to twelve months can learn to roll over from a face down position in the water onto their backs to relax and breathe. Particularly active infants may also learn to propel a short distance through the water between two parents. Learning these skills takes approximately 12 to 20 lessons.
Older infants and young children (12 months – 6 years) are able to learn a more advanced swim float swim sequence.
At what age do your start teaching a child?
We begin instruction at six months. As soon as your child can crawl, he/she NEEDS TO LEARN TO SWIM. Statistics reveal that the younger the child is, the more chances they have of drowning.
Here are some other reasons why you should consider getting an early start on survival and swimming skills for your child with Kinder Swim, Inc.
If you want your child to learn to swim and float in weeks, not years;
If you or your extended family life or vacation around backyard pools or natural bodies of water;
If you enjoy swimming and want your child to enjoy it as well;
If you never learned to swim and want something better for your child;
If you are ready to make a commitment to your child's aquatic future, his health and well-being;
The lessons offered by Kinder Swim, Inc. will increase your child's self esteem and empower him with an incredible sense of accomplishment.

Why are lessons only 10 minutes long?
In order for children to learn and retain the skills to be a proficient swimmer in a timely fashion, consistency and frequent repetition are key.  In addition, since lessons are private, your child does NOT spend any time waiting on the side of the pool for their turn.  Ten minutes of continuous work and swimming is extremely tiring.  Think about how you would feel after swimming for 10 minutes straight.
What is Survival Swimming?
Kinder Swim, Inc. teaches children 6 months to 6 years survival swimming skills. One such skill is the back float. Infants and toddlers cannot raise their heads to take a breath, so they are taught to roll completely over onto their backs to float, relax and breathe. Babies are quite buoyant and can remain in this position for a very long time, even while fully clothed.
How Are Lessons Conducted?
Be assured, we do not throw children into the water. We use a variety of methods, combining the best ideas from swim schools and infant/toddler programs throughout the world.
Toddlers do best with short lessons multiple times per week, rather than one long lesson. Our program is flexible because children learn differently. Lessons are usually one-on-one, four times per week. Our lessons are short and tailored for the learning style of a very young child.